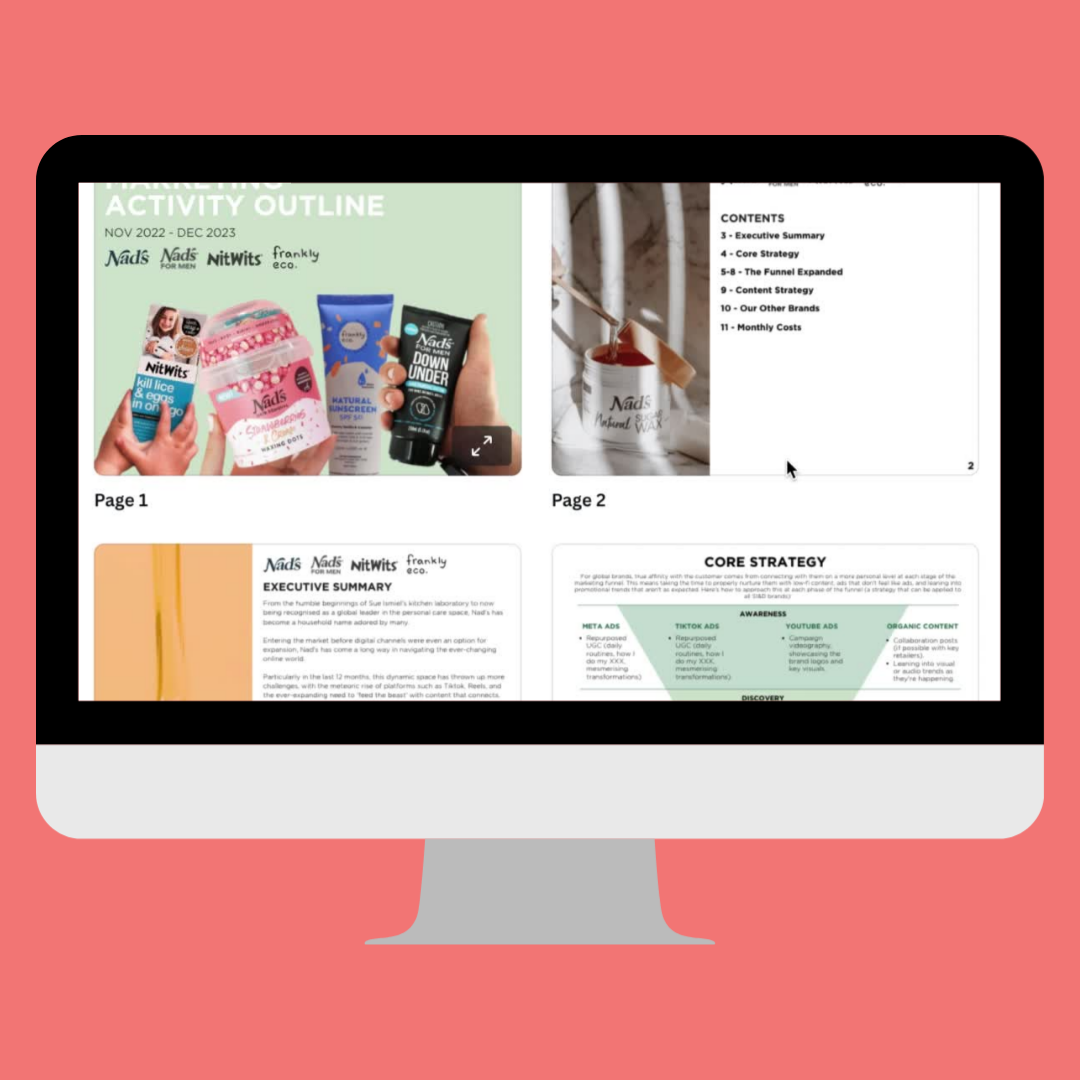 Set your business apart with a digital marketing strategy to make you shine!
CONFESSION: When you choose to work with Propel Digital, you're choosing to work with strategy nerds!
Trust us, it's HARD to stand out from the crowd. There are plenty of different businesses doing exactly what your doing, and the only way you're truly going to set yourself apart from them is through a effective digital marketing strategy.
And killer digital marketing strategy looks into how to present your brand online, how to speak to your target audience, how to create an out of this world customer experience and what tactics to use to ensure your brand stands out from the pack!
That's where we come in...
Our team of digital marketing strategists will get to work, uncovering your brand's potential and plotting a road map to make you shine online.
We'll define your audiences, understand their pain points and then position your business to be the solution to their needs. Not only that, we'll define all the marketing tactics you'll need to get you there.
Who is this for?
If you're just launching a business

If you're refocusing or pivoting your existing business

If you're about to scale or grow your business
What the Propel Posse are saying...
"Great business and bunch of people to help out with your marketing & social media needs. We have been a very happy customer, and have made many recommendations to others."

"Working with Propel Digital has been a real game changer for my environmental venture! Lauren's ability to firstly understand the companies values and goals and then wrap them up into a neat social media experience for our followers really leveled up our marketing efforts. Great to work with and always gives so much more value than expected. Thanks Loz!"

"Lauren is a delight to work with, is very professional and really knows her stuff! if you are looking for someone to help you through the maze of finding the digital marketing channels that suit your business and develop strategies to engage with your perfect client Lauren is fantastic."

"Have used Propel for multiple projects over the last few years and have never been disappointed! Loz and her team have the highest level of customer service and nothing is too big or small for them! Always appreciate the work they do!"

"Strategic creation & deployment of quality social media content has changed the way we message. With Propel Digital it's not 'advertising' to our audience but, 'educating' our audience. PD are a professional, efficient team that deliver."
FAQs
Taking the leap to work with an agency can be daunting! So, here's some questions we commonly get asked about digital marketing strategy to help answer any queries or concerns you may have.
The main elements of a marketing strategy are your target audience, goals and objectives, and the tactics you will employ to actively market to your target audience and achieve your goal KPIs. These three elements are crucial to formulate an effective marketing strategy.
Digital marketing allows you to reach your target audience in ways that traditional forms of marketing do not allow. Depending on the channels used, you can target your market accurately at all stages of the buying cycle, reaching them with highly relevant messaging and content. Digital marketing is also accurately measurable, so you can evaluate precisely where your marketing efforts are having the most impact.
Whatever the size of your business it is important that you have a marketing strategy in place, to make sure that whatever marketing activity you do, it is aligned with your goals and objectives. Having a strategy means you have clear steps to take to meet your objectives whether they are short term, mid-term or long term.
Nope! Whilst we would love to keep working with you to help you reach new heights of success with your digital marketing – you're not locked into anything! We design your digital marketing strategy to be a 'take it and run' deal so that you can stay accountable to the roadmap we provide.
Want to level-up your digital marketing strategy?
Submit an enquiry below and we'll be back in touch to help you make marketing magic.